EFT Training with Gwyneth Moss
Please Contact Gwyneth with any questions or call on 01943 600522
What does it take to become a really effective, skilled EFT Practitioner?  First of all you need great training then you need lots of practice and mentoring.  Gwyneth's two weekend courses teach you the EFT techniques and process.  Then membership of the EFT Guild community gives you the support and encouragement to keep on tapping, learning and building skill in preparation for EFTi Practitioner certification and accreditation. (EFTi was previously known as AAMET)
So, in brief, you need to :
Complete EFT Part One and EFT Part Two,  both two day trainings which together cover the syllabus and teach the required competencies.
Join the EFT Guild, a single annual membership fee covers lots of learning resources, practice groups and support www.EFTguild.org Or you can make your own arrangements for practice and mentoring.
For recognition and listing as an Accredited Certified Practitioner by EFT International you need to join EFTi, submit session notes and case studies, and take the online exam.
Clear and engaging teaching from EFT Master Gwyneth Moss.   Highly praised workshop on streaming video with workbook and exercises.  Learn ...
£40.00 Add to cart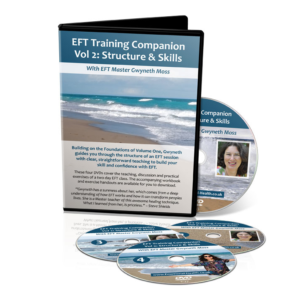 This second volume, now on streaming video, builds on the teaching in Volume One which should be viewed first. Gwyneth ...
£40.00 Add to cart
The EFT Guild Training Courses
The EFT Guild courses cover the syllabus and competencies required for accreditation with EFT International (formerly AAMET), they also contain additional material and go deeper into key concepts.
EFT is a practical skill. Like learning how to swim or ride a bicycle or play the guitar. You start with some training but how you get good at it, is by doing it. There is little head learning and a great deal of hands-on knowhow that comes from practice.
This training facilitates varied learning experiences through which you draw your own conclusions and learn in your own way. There are live demonstrations for real issues. And carefully designed practical exercises to get you tapping with other people right from the start. You will have lots of opportunity to ask questions and discuss what you experience.
My aim as a teacher is to maintain and communicate the core principles and processes of EFT congruent with the original formulation by Gary Craig. Just as a teacher of watercolours should teach concepts such as colour, composition and perspective independent of their own personal style as an artist: my courses are designed to teach the core EFT concepts. Each of us then makes EFT our own and develops our own style of delivery. Effectiveness requires however, that the core concepts: eliciting specific events, clearing all aspects, and thorough testing are common to all."
Why Choose Gwyneth's EFT Training
Many EFT Practitioner training courses are taught with a powerpoint full of procedures dating back to the early days of EFT.  This is not the way to learn. These training courses have been completely rewritten to give you a naturalistic, practical experience right from the start.  They are packed full of stories, metaphors and teaching tales that build one upon the other. They cover the syllabus and yet go further and deeper into the topics to give you more understanding and more ability to develop skill and capability.
EFT is best learned in bite sized chunks.  Our training does not overload you but builds up the techniques one at a time.  Then puts those techniques together for you into a process or roadmap.  It is this roadmap which differentiates Gwyneth's training.  We don't just give you a bag of techniques and leave you floundering trying to work out how they fit together when faced with a real person in distress.   This training is designed to help you build the skill and confidence to be a really effective EFT practitioner by starting where your client is at.
Jessica Mor says about EFT Training with Gwyneth Moss: "When I learnt to drive my driving instructor had such a calm, clear way of teaching and such a firm belief in what he was teaching that you couldn't fail to feel confident even on your first drive out. Twenty years later I can still hear his reassuring voice, issuing gentle reminders. I've found that it's been like that with you and your teaching Gwyneth; your voice, manner, approach, key phrases that I've heard repeated in the workshops or on the DVD's, are there in my ears like auditory stabilisers as I have been begun my practice! Your voice goes with me, thank you."

EFT Part One
Part One of our EFT Practitioner training gets you started tapping without words for self-help and first aid (the TTT method) then we build to clear, clean, skilful EFT with words. And there is more that is not taught elsewhere. Learn how and why the past imprints on us. Learn how to target tapping to clean up thoroughly the effects of shock and stress. Learn the simple questions that can uncover what an issue is all about. And learn this in a straightforward, common-sense, practical way. Even if you have been tapping for years you will gain from this new and deeper understanding with both scientific and meridian explanations of EFT effectiveness. The course covers:
Getting started with first-aid and self-help tapping
Carefully designed exercises to learn how to tap with others and what to say
The skilful way to clear the after effects of a painful memory
EFT for compulsions and cravings
EFT Part Two
Our new Part Two puts it all together and gives you a roadmap to navigate through an EFT session. Learn how to avoid potential overwhelm. How to transform limiting beliefs. How to test really thoroughly. How to set a desired future direction. This course goes further than any other EFT practitioner training in building your skill and confidence to tap with others. Many who have trained with other trainers say they have gained through repeating this course.
the EFT Gentle Techniques to calm high intensity and bring clarity to vague issues
The effects of limiting beliefs or False-Truths and how we use EFT to release them
When to skilfully use positive language by setting intention and using affirmation
EFT for groups and borrowing benefits
EFT for animals and surrogate tapping
Clear and engaging teaching from EFT Master Gwyneth Moss.   Highly praised workshop on streaming video with workbook and exercises.  Learn ...
£40.00 Add to cart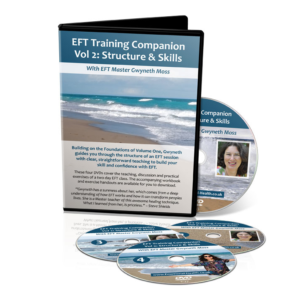 This second volume, now on streaming video, builds on the teaching in Volume One which should be viewed first. Gwyneth ...
£40.00 Add to cart
On completion of Part One and Part Two training you can join the EFT Guild.