Get Gwyneth's EFT on Video
DVD Box Sets or Vimeo Streaming Video
Watch on computer, tablet, phone or internet TV.
You can only buy these here – directly from Gwyneth.
EFT Helps is 9 full session EFT cases.  Study these for advanced learning or tap along for borrowing benefits.
The EFT Training Companion are films of full two day EFT training workshops with accompanying workbook and exercises. Refreshment for experienced tappers and thorough foundational learning for newcomers hungry to get started.
EFT-Helps Masterclass Streaming Video
Nine full EFT sessions for advanced learning and Borrowing Benefits.
EFT excellence in a full hour masterclass with Gwyneth Moss.  Rosie is happily married and yet cannot let go of a teenage break up.  Watch for advanced learning and tap
£5.00Add to cart
EFT excellence in this masterclass with Gwyneth Moss.  Roger is angry after being reminded of molestation as a teenager.  Watch for advanced learning and tap along for borrowing benefits.
£5.00Add to cart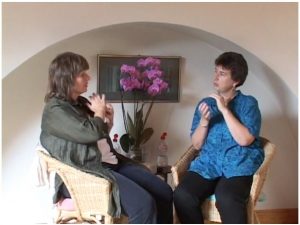 EFT excellence in a full hour masterclass with Gwyneth Moss.  Manuela has always felt insecure and can easily get upset.  Gwyneth guides her to focus on specific events and change
£5.00Add to cart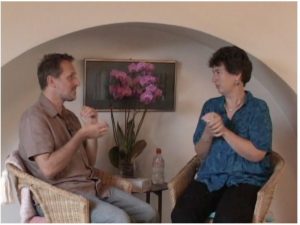 EFT excellence in a full hour masterclass with Gwyneth Moss. John has been suffering migraine and facial neuralgia. He uncovers an early memory of being bullied and a theme of
£5.00Add to cart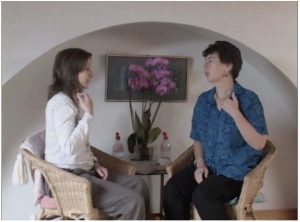 Rosanna experiences intense fear if her daughter is even ten minutes late coming home. EFT helps Rosanna clear the root of the fear in her own childhood, gain confidence in
£5.00Add to cart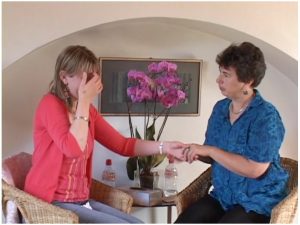 Gillian has coped bravely through multiple tragedies of family deaths and mental illness. Yet all she can see is her own failure. EFT helps her process intense emotions and to
£5.00Add to cart
Sabina has difficulty with vision and particularly reading. EFT helps to free her from trauma that she witnessed as a child. Sabina then has a calmer and clearer experience of
£5.00Add to cart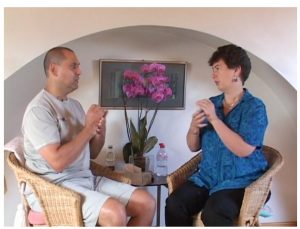 Roy feels that something is missing. With EFT we work through his experiences of childhood illness and separation from his mother. Roy is then able to feel fully and completely
£5.00Add to cart
Penny describes herself as like a sieve with money. Gwyneth tests her truths about money and guides her to her learning in her early childhood. Penny is then able to
£5.00Add to cart
Bonus Gift Interview with Gwyneth
Get this video for free, add to your Cart get the price deducted with coupon code – bonus
In this illuminating interview Gwyneth talks about her work in the EFT-Helps videos giving you an insight into her process and technique.  Get this video as a free gift, add to cart and use coupon code - bonus
£5.00Add to cart
Excerpts from EFT Helps
Ten minute tasters of the full advanced EFT sessions.
Gillian - Too Much Tragedy
EFT DVD Box Sets
Two day training courses and the full set of EFT-Helps Masterclass videos
The original EFT Helps tapping dvds invite you to join Gwyneth and the EFT helps group of nine.  Watch and tap along as each person transforms their often intense emotion
£60.00Add to cart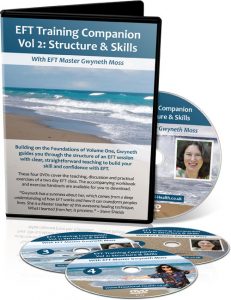 This second volume builds on the teaching in Volume One which should be viewed first. Gwyneth teaches the structure of an EFT session from getting started to thorough testing. Learn the
£60.00Add to cart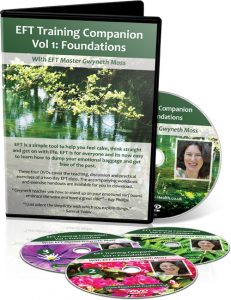 Clear and engaging teaching from top EFT trainer Gwyneth Moss.  An EFT Training Companion Volume One is the two day Foundations workshop on 4 dvds.  Learn how to tap through
£60.00Add to cart
Dr Johannes Bircher MD writes:
As everybody, from time to time, I have been struggling with life. I found many things easy and straight forward. Others unfortunately proofed to be difficult or insoluble. I had to learn that some dilemmas remained with me and I saw no way out of them.
The Emotional Freedom Technique, EFT, has changed this. Therefore I was very happy to learn from Gary Craig what can be achieved by EFT. When practicing EFT for myself or for others, I experienced some very interesting successes, but also some failures. Then I asked myself, why I may not have been successful in some cases.
With this question in mind I was looking at the Volume One of the EFT Training Companion by Gwyneth Moss and I made some very interesting discoveries. Gwyneth approaches the teaching of EFT very methodologically. Personally I like to grasp the theoretical part of a new technique, but I also like to see it demonstrated in order to enable me to reproduce the procedure myself.
Gwyneth offers a superb mixture of theory and practical procedures. One can stop the DVD at any point and print the written teaching statements and then look again at her performing, what she has said. To get most out of her DVDs it is good to examine many parts twice or even more times. They are loaded in such a way that they can be truly studied with much benefit.
For me these DVDs are a wonderful gift. Gary Craig has given EFT to the general public with great generosity. As a result a large number of experts with different levels of excellence have arisen. For some of them the primary motive to teach EFT is a deep calling. Obviously, they have to live of it and have to ask for some money. Yet, unfortunately, EFT has become commercialized to an important extent by now. Therefore many other motives for teaching may be dominating.
Gwyneth is a trainer for EFT as passionate as Gary. Her EFT Training Companion DVDs Volume One and Volume Two are of top value for the acquisition of competences in EFT and very much worth an investment of money and time.
Johannes Bircher MD
Meikirch, Switzerland